Costa Rica
Enjoy some interesting facts about Costa Rica! and when you are done, scroll to the bottom of the page to find our colouring flag and useful flag printables - including bookmarks, booklet, notebooking page and jigsaw!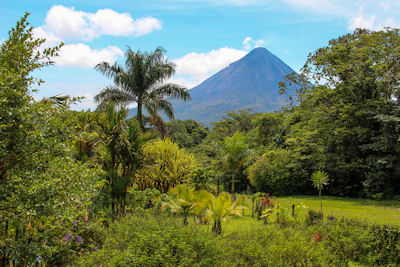 Arenal Volcano, Costa Rica
A little geography:
The Republic of Costa Rica is a small Central American country between Nicaragua in the north and Panama in the south. The country is on an isthmus of land with two coastlines. The Caribbean Sea forms the eastern seaboard whilst the Paciific Ocean is on the west.
Three volcanic mountain ranges run down the inland spine of the country.
The capital is San Jose.
Christopher Columbus named the area 'costa rica' meaning 'rich coast' on seeing native gold when he took refuge from a hurricane in 1502.
Costa Rica has many active volcanoes including the majestic Arenal, which erupted in 1968 and 2010. Lava flows, ash and steam clouds often occur although it is deemed to safe to visit.
Locals, called Ticos, are overwhelmingly Spanish speaking, Roman Catholic and of European or mestizo heritage. Just 1% of the 4.5 million people are Indians. There is a thriving Afro-Caribbean community around Puerto Viejo on the east coast.
Costa Rica's economy was originally based on coffee and banana exports. Eco-tourism is now booming with 2.4 million visitors in 2012, making Costa Rica the top destination in Central America.
Some interesting facts:
The most expensive coffee sold by Starbucks in the US in 2012 came from Tarruzo in Costa Rica.
The country is said to have the world's most habitats for a small country - from tropical rainforest and cloud forest to savannah and mangroves.
Coast Rica has 4% of the earth's biodiversity, higher than the US and Europe combined, in less than 0.3% of the world's land.
There are at least 890 species of birds, 230 mammals and 12,000 plants, including no less than 1,500 orchids! Amongst the notable residents are jaguars, sloths, tapirs, sea turtles, scarlet macaws, toucans and hundreds of exotic butterflies.
Costa Rica has no regular army. It was abolished in 1948 and there has been no civil war since.
Top surfing location, Witches Rock, featured in the famous surfing documentary Endless Summer II.
Our Costa Rica Resources
You'll find a colouring page of the Costa Rican flag, as well as notebooking page, bookmarks,...
It's fun to find out a little something about other countries like Costa Rica, and these...
Explore Activity Village