Our cute little cow finger puppet is a perfect craft for kids who are just learning to sew. It also makes a really nice gift for an older sibling to give to a younger sibling. And of course, once you've made the craft, you can play with it!
You will need:
Black, white and pink felt
Needle and thread
Fabric glue
Wiggle eyes
Our printable template (below)
Instructions:
Cut two body shapes from white felt.
Cut two hooves from black felt.
Cut one head from white felt.
Cut one nose from pink felt.
Sew one set of the hooves to each body. Embroider a line of running stitch up the middle of each body piece to make the legs.
To make a tail, cut a short length of 6 strand embroidery thread and knot the end. Thread onto a needle and thread through the body so the knot is on the back and the thread hangs where the tail should be. Knot at the end and separate the pieces of thread out until you are happy with the tail.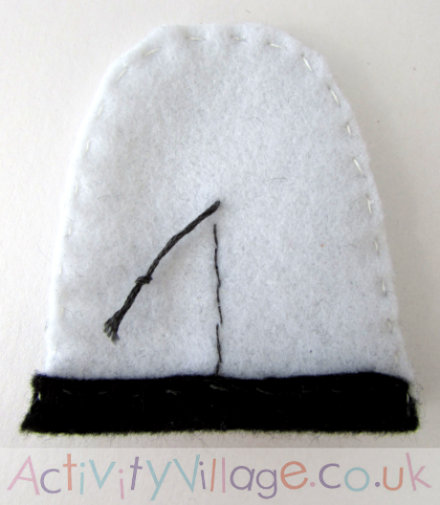 Back view of our cow finger puppet, showing its tail
Sew the body pieces together making sure to leave the bottom open.
Cut patches of black felt and glue them to the body and head
Embroider two crosses on the nose for your cow's nostrils. Glue the wiggle eyes and nose to the face. And finally, glue the face onto the body.