Use a paper plate and some basic craft supplies to make this lovely cow mask. We love this sort of activity because it gives your child fun of making the mask, and then wearing it too!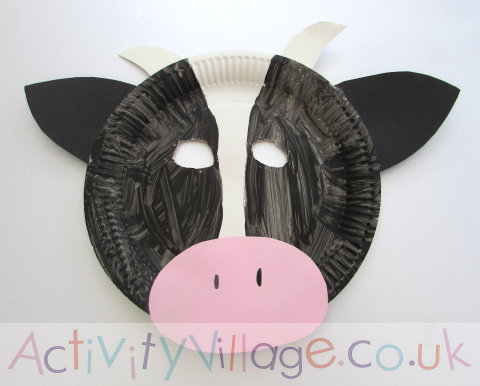 You will need:
Paper plate
Black paint
Pink, black and white card
Glue
Elastic thread or a craft stick
Instructions:
Paint two black patches on the sides of the plate, leaving a white stripe in the middle.
When the paint is dry, carefully cut two eyeholes.
Cut 2 ears from black card and 2 horns from white card. Glue these to the back of the plate.
Cut a nose from pink card. Draw on the nostrils and glue to the front of the plate.
For your child to wear the cow mask, either make a hole on either side of the plate and tie some elastic through, or tape a craft stick to the bottom of the plate so that the mask can be held in front of your child's face.