Turn a loo roll into a fun container for little treats with some folding and crafting. This would make a great craft for a party. Get the kids to make their own tube, then fill it with treats for going-home time!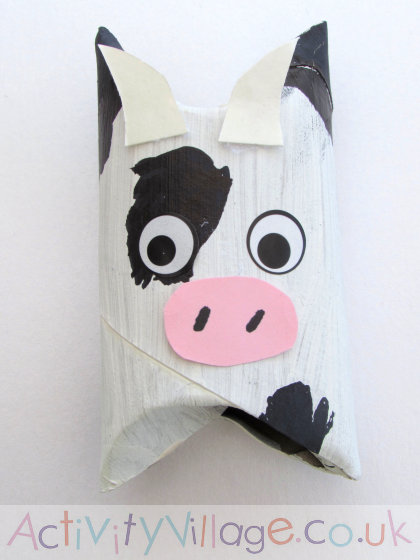 You will need:
Toilet roll tube
White paint
Black marker
Wiggle eyes (we had eye stickers so used them)
Pink and White card
Glue
Insructions:
Paint the tube white and leave to dry.
Draw black splodges on the tube with the marker pen.
At one end of the tube, push the sides into the tube so that they fold over each other and close the tube.
Cut a nose from pink card, and two horns from white.
Turn the tube so that the closed end of the tube is at the top. It becomes the top of the head, with the points being the ears. Glue the nose, eyes and horns to the front of the tube.
If you like, pop some sweets into the tube before closing the other end in the same way.
Explore Activity Village