Our craft foam vase is just what you need for displaying your I Love My Mum/Mom Flower or bunch of daffodils for Mother's Day.
You will need:
Green craft foam
Craft foam flowers or other embellishments
Double sided sticky tape
Glue
Instructions:
Draw around a cup to make a circle on the foam and cut out.
Cut out a rectangle of green foam about 10cm by 15cm. Roll into a tube and use the double sided tape to join together.
Cover one edge of the tube in glue and stand in the centre of the circle.
Glue the foam flowers on to the vase and then leave to dry.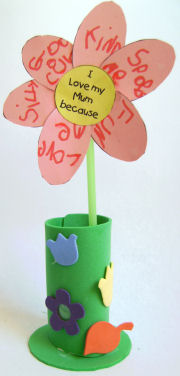 Explore Activity Village