Our DAD Photo Frame is a perfect gift for kids to make for their Dads on Father's Day.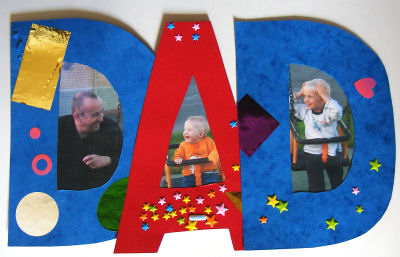 You will need:
A5 card (we used A4 and cut in half)
Stickers and any other embellishments that you have
Glue
3 Photographs
Instructions:
Draw two D's and an A shape onto the card, and cut out. Use a small pair of scissors to cut out the inside of the letters, too (younger children will need adult help or supervision).
Decorate your letters. We simply used stickers but you can use gems, ribbons, sequins, pompoms or anything else from your craft box.
Glue a photo to the back of each letter so that it fills the aperture. Trim any overhanging bits of photo away.
Layer the letters so they overlap slightly, spelling out the word "Dad", and glue together.
You could laminate the photo frame to make it last, or enclose the whole thing within a larger Perspex frame.
Explore Activity Village