Children can sew this pretty daisy picture to give as a gift (mount it and frame in a simple frame like ours) or use it on the front of a card for someone special, perhaps at Mother's Day.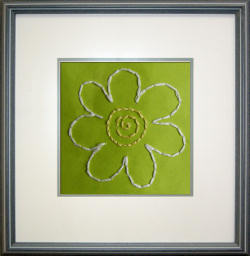 You will need:
White and yellow embroidery thread or yarn
Green card
Needle with large eye (blunt for younger children)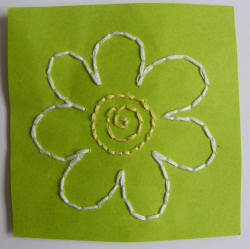 Instructions:
Sketch out your design on the back of the card.
Put the card on a folded newspaper, and, following the outline that you have drawn, punch holes with your needle. Try to space them evenly.
Tape one end of the thread to the back of the card to secure, and sew your design in place.
Either frame the picture for a special gift, or glue your daisy to the front of a card for a spring birthday, Mother's Day or Teacher Appreciation week card.