This Day of the Dead felt skull craft is a lovely excuse for children of all ages to practice their sewing skills - and to dig out all those embellishments that have been looking for a project! You could insert a wooden spoon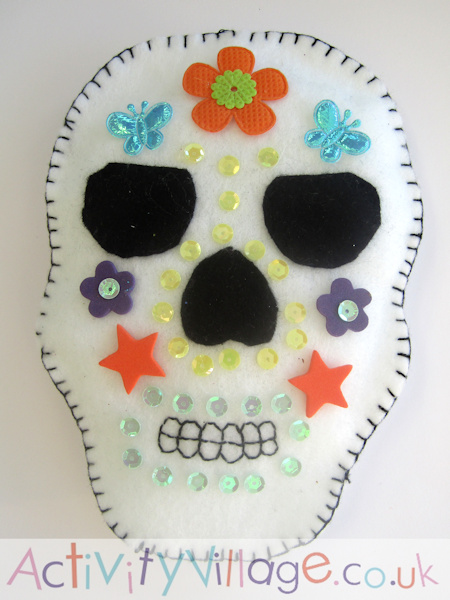 You will need:
White felt
Black felt
Black embroidery thread and needle
Toy stuffing
Embelishments
Fabric glue
Fabric paint (optional)
Instructions:
Cut two skull shapes from white felt using our template.
Cut eyes and nose from black felt. Using running stitch, sew the eyes and nose to one of the skulls. Use running stitch to embroider a mouth, using our photo or perhaps some of our sugar skull colouring pages for inspiration.
Lay the skulls one on top of the other. Sew around the outside of the skulls with blanket stitch. Leave a small gap to stuff the skull, and then, once stuffed, sew closed.
Use fabric glue, embellishments and paint to decorate the skull.
Explore Activity Village