A devil costume is really as simple as kitting your child out in red, and accessorizing with a few bought or hand made extras!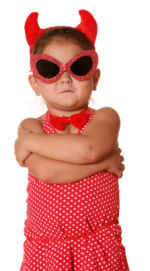 A traditional devil costume comprises red tights, trousers or leggings, a red T-shirt, sweatshirt or leotard, horns and a tail. As you can see from our photo above, though, you don't have to be too traditional to achieve a really good costume.
For your little devil's horns, either buy a head band (widely available) or make your own with our template and some red card. You might want to make a fork, too: simple cut our fork template out of red card and attach to a stick (get the kids to paint the stick red if you like), but make sure that whoever is carrying the stick is careful with it.
Attach a tail. As a devil's tail is traditionally quite thin, we suggest a piece of red rope with a red cardboard arrow attached to the end. You could also sew together two narrow strips of red felt, and lightly stuff before sewing on a red felt arrow head tail.
Some devils like to wear a red bow-tie, so we have included a template for one of those too! Cut out of red card, decorate as required (red glitter sprinkled over the central section looks brilliant), and attach to a piece of elastic or ribbon.
Finally, if you would like to copy our little devil's sunglasses, cut a red frame to fit around an old pair and use double sided sticky tape or sticky tack to secure temporarily. For added glitz you could spread glue and sprinkle the frame with glitter before attaching.
Explore Activity Village