Using simple collage techniques and bright-coloured scraps of fabric, paper and card, kids can make this beautiful Diya collage card for Diwali. Of course you could make a bigger version to display during this Hindu festival, too.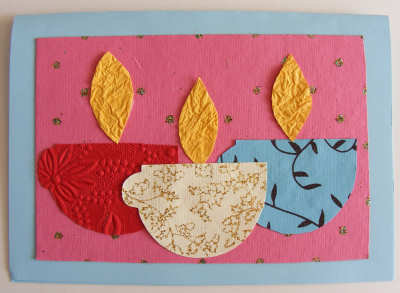 Pretty colours make this Diya collage card really special.
You will need:
Sheet of A4 card
Selection of patterned and textured paper or fabric in bright colours
Glue
Instructions:
Fold the card in half.
Cut a rectangle from paper just a little smaller than the front of the card. Glue it in place.
Cut 3 'diyas' from different types of paper. Glue them to the card.
Cut 3 'flames' from yellow or gold paper or card. Glue them on to the card above the diyas.
If you like, you can further embellish your card with glue and sequins.
Explore Activity Village