Djibouti
Come with us to Djibouti, on the east coast of Africa. It's a hot and dry barren land. Djibouti is a poor nation with few natural resources, limited farmland and very little rain. But it uses its strategic position on the 'Horn of Africa' to attract foreign shipping and military activities. Use our printable resources below to test your findings.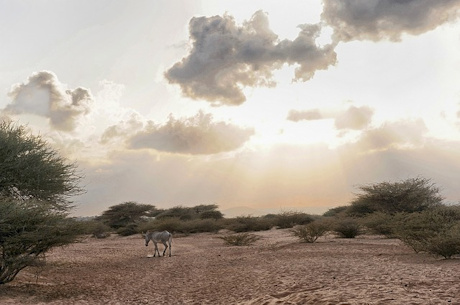 A Little Geography…
Djibouti is a small country sitting between the Red Sea and the Indian Ocean. It shares the Horn of Africa with neighbouring nations Ethiopia, Eritrea and Somalia.
The country has a population of about 900,000 people, living in an area of 23,000 square km. Much of Djibouti is bare desert, although mountains rise in the north. Most people live in (or near) the capital, the port city of Djibouti.
The port of Djibouti is found at the entrance to the Red Sea, where major shipping routes join to connect Asia, Africa and Europe. Foreign nations use it as a gateway to Northern Africa, while landlocked African countries use Djibouti to ship their goods abroad.
Transportation from the port of Djibouti is an important source of revenue. Another major industry is salt mining. The intense heat in Djibouti causes lake water to evaporate, leaving salt and mineral deposits behind.
A Little History…
The area around Djibouti has been settled for thousands of years. Arab traders brought Islam to the region, and today most of the population are Muslim.
In the late 1800s, the French took over, renaming the area French Somaliland, and later the French Territory of the Afars and the Issas. The country is now French and Arabic speaking, although African languages still remain.
The country became Djibouti when it gained independence from France in 1977. But French peacekeeping troops still dominate the area. In the early 1990s, a bitter civil war was fought between the Afars and the Issas, the country's two largest ethnic groups.
And Some Interesting Facts…
Djibouti is home to one of the saltiest bodies of water in the world, Lake Assal, in the Danakil Desert. Lake Assal is also the lowest point on land in Africa – 155 metres below sea level.
Lake Assal is a good place to spot flamingos that flock there in winter. The region is also home to hyenas, jackals, ostriches, antelope and gazelles.
The Djibouti flag has blue and green horizontal stripes, and a red star within a white triangle. The blue represents the Issa people, the green the Afar people, and the red star on white represents unity.
---
Djibouti Flag
The national flag of Djibouti consists of two horizontal stripes of light blue and light green, and a white triangle with a red star. Blue represents the Issa people, green the Afar people, and the red star symbolises unity.
---
Our Djibouti Resources
Explore Activity Village