This lovely painting project has a suitably watery theme given that the subject matter is a dolphin! Children will love how the colours blend together and enjoy watching the effect that the salt sprinkle has on the finished picture.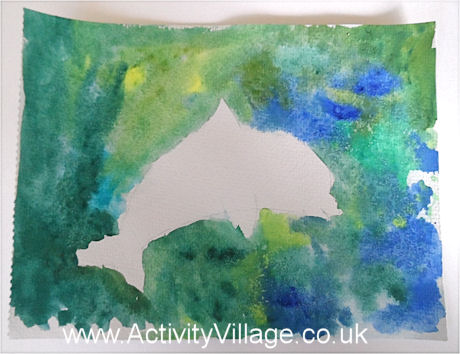 You will need:
Watercolour paper
Watercolour paints in shades of blue and green
Salt
Optional: our dolphin template
Instructions:
Sketch the outline of a dolphin onto your paper, or draw around one of our dolphin templates.
Paint the paper with water, leaving the dolphin dry. If you add a tiny bit of paint to the water it will be easier to see where you have painted.
Water down your paints so they are very runny.
Dab them on to the paper and enjoy watching them run and blend together!
When you are happy with the paint sprinkle, with salt and leave to dry.
When the paint is dry brush off the salt. You will find that it absorbed some of the paint and has left a mottled effect, like sea bubbles.