Dominican Republic
Delve into the world of the Dominican Republic and find out more about this fascinating Caribbean country. Then scroll down for some of our printable activities to reinforce what you have learnt!
A Little Geography…
The Dominican Republic is found on the island of Hispaniola in the Caribbean. It covers the eastern two-thirds of the island. The other third is the country of Haiti.
After Cuba, it is the second-largest country in the Caribbean. It covers more than 48,000 square kilometres, and has a population of about 10 million people (known as Dominicans). The capital city is Santo Domingo.
The country has a vast variety of ecosystems, from tropical rainforests and desert plains to beautiful beaches and majestic mountains. The largest peak is Pico Duarte, the Caribbean's tallest mountain at 3,175 metres (10,417 ft). Although the Dominican Republic has suffered from floods, hurricanes and earthquakes, the scale of these natural disasters cannot match those of its neighbour Haiti.
The Dominican Republic used to be famous for its mining of gold and ferronickel (nickel with iron), and its main agricultural exports of sugar, tobacco, cocoa and coffee. But in recent years, building, manufacturing, finance and tourism have become increasingly important.

The Dominican Republic is a popular tourist destination
A Little History…
The island of Hispaniola was the first place that Christopher Columbus reached in the Americas in 1492. He named it La Española (Little Spain). The island fell to Spanish rule, but over the years power has also passed to the French and the Haitians. Today, the official language is still Spanish.
In 1844, the Haitians were overthrown and the Dominican Republic was established. The nation's first leader was Pedro Santana. After dictatorships and brief periods of democracy, the country now has a representative democracy with a president elected every four years.
Santo Domingo became the first capital city of the Americas, named after Saint Dominic. Founded in 1496, it boasts the region's first cathedral, first university and first hospital. The cathedral still stands some 500 years later and in 1990, the city was declared a UNESCO World Heritage Site.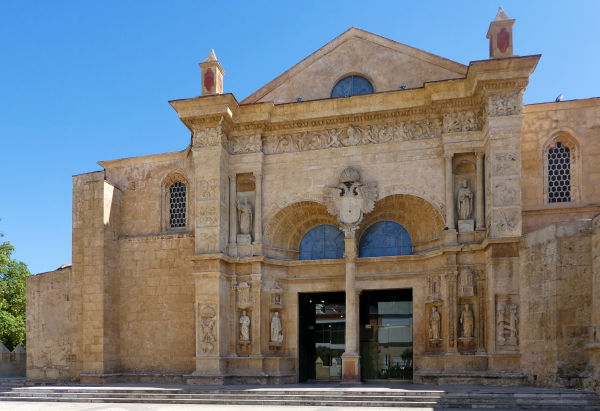 Cathedral of Santa María la Menor - the oldest cathedral in the Americas
And Some Interesting Facts…
The Dominican Republic is a very popular tourist destination. It is known for its beautiful beaches, all-year-round golf courses and excellent rum! It is also a good place for whale watching – humpback whales return to the warm waters of Samana Bay each year to have their babies.
The country is also famous for its joyful fast-paced music and dance style called 'merengue' and its national sport, baseball. Many of the world's greatest baseball players are Dominican.
Our Dominican Republic Resources
The flag of the Dominican Republic consists of a white cross dividing the flag into four rectangles...
When you are studying the Dominican Republic - perhaps if you are lucky enough to be heading there...
Explore Activity Village