Dr Seuss Recipes
"Children want the same things we want. To laugh, to be challenged, to be entertained and delighted."
Theodore Geisel
Trying our a Dr Seuss recipe or two can be a fun accompanying activity to reading one of the Dr Seuss books or watching a film. We've got a few suggestions below.
Green Eggs and Ham
"Do you like green eggs and ham?"
"I do not like them, Sam I am. I do not like green eggs and ham."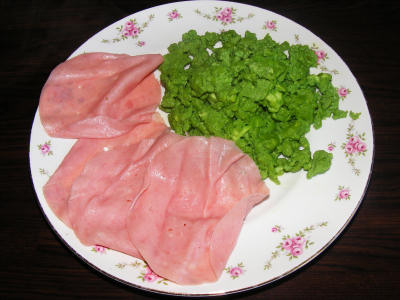 Green eggs and ham for lunch! Not very appealing for adults?
Probably the most famous Dr Seuss inspired dish! If you can face the thought, simply scramble a few eggs, add a couple of drops of blue or green food colouring to the mixture and cook as usual. Serve with a slice of ham.
Cat in The Hat Snack
Obviously for a cat in the hat snack you need, somehow, to create a tall red and white hat! We've got two ideas:
The Savoury Version
Start with a large rice cake as the base. Spread a little cream cheese in a circle in the centre, then stack up regularly-cut slices of tomato, small snack-size rice cakes and more cream cheese to hold it all together. This hat is actually quite tasty!
The Sweet Version
The ideal base for a sweet cat's hat is a white chocolate covered biscuit. You could also use a circle cut out of thickly-cut ready-to-roll fondant icing, but that would probably be too sweet! Melt some additional white chocolate and add red food colouring, or use ready-to-squeeze red icing to pipe a small circle in the centre of your base. Pop on a white marshmallow, and another layer of red icing or chocolate. Top with a second marshmallow. If you have used squeezy icing, you might want to pipe a couple of additional red lines around the marshmallows for authenticity.
Wiggly Fish
This snack idea was inspired by "One Fish, Two Fish, Red Fish, Blue Fish". Prepare several different colours of jelly (jello) according to the packet instructions and pour each different flavour into it's own shallow pan. Add fruit pieces to the jelly, if you like, before it sets. When set, use a fish shaped cookie cutter to cut the jelly into fish shapes. These look great on a white plate and are a big hit with the kids! Serve with...
Pink Ink for the Yink
The Yink in "One Fish, Two Fish" love to drink pink ink. Make your own version by combining a few strawberries (either fresh, or frozen and thawed) and some milk in a blender. Add a few drops of red food colouring if the "ink" isn't pink enough! Add a scoop of vanilla ice-cream for a treat. Or just serve strawberry milk.

You might also enjoy: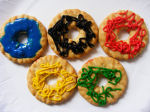 Olympic Recipes
Explore Activity Village