Edward VI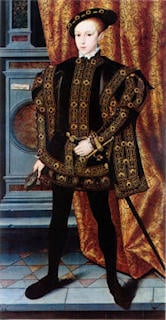 Edward VI (1547-1553) became king at the age of 9. He was the son of Henry VIII and Jane Seymour.
During his reign the country was ruled by a regency council.
Sadly Edward died of an illness (or possibly poisoning) at 15 years old.
Edward was a Protestant and wanted to leave his throne to a Protestant so he declared his cousin Lady Jane Grey to be his heir.
However his older half-sister Mary I immediately claimed the throne and Jane was sent to the Tower of London as a prisoner.
Explore Activity Village