Egypt
Learn a little about Egypt and enjoy our colouring pages of the famous sites and our Egyptian flag printables and activities.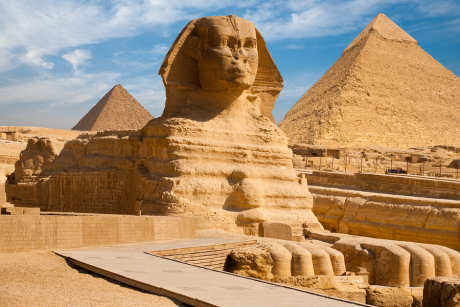 The Sphynx, with pyramids in the background
Some Fun Facts about Egypt
The Arab Republic of Egypt is a large country in north east Africa with a population of over 80 million.
Cairo, the capital, is the largest city in Africa with over 22 million people and contains the only subway system in Africa.
Egypt is famous for its ancient civilisation which dates back to 3200BC.
Tutankhamen became Pharaoh when he was only nine. His tomb containing his treasures was found by Howard Carter in 1922.

Egypt is shown here on a map of Africa. You can print this map here.
The Great Pyramid of Giza contains 2.3 million stone blocks and took 20 years to build. It was the world's tallest building for 3,800 years!
The River Nile, which flows through the length of Egypt, is the longest in the world at 4,140 miles. Each year it floods to create fertile land where crops are grown.
Alexandria was home to the biggest ancient library and the famous Pharos Lighthouse, one of the Seven Wonders of the Ancient World.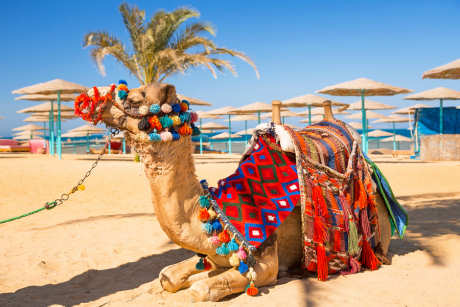 Camel on beach, Egypt
Flags and Other Printables
Explore Activity Village