El Salvador
Come with us to El Salvador! We will learn a little about the country and its flag, and provide fun printable activities for the kids too.

Spectacular mountain scenery in El Salvador
A Little Geography
The Republic of El Salvador is the smallest and most densely populated country in Central America.
It is 1/6th the size of Nicaragua with a slightly larger population of 6.1 million.
El Salvador borders Guatemala to the north west and Honduras to the east and north and the Pacific Ocean to the west.
El Salvador is the only Central American country with no Caribbean coastline.
The capital city of San Salvador lies on the Pan American Highway. It was founded by the Spanish in 1545 but most of the earliest building were destroyed by earthquakes.
Surfers from the capital and abroad flock to La Libertad beach to try the famous Punta Roca break waves.
The San Salvador volcano is nearly 2000m high. It has a crater over 500m deep and 1.5km wide and last erupted 100 years ago.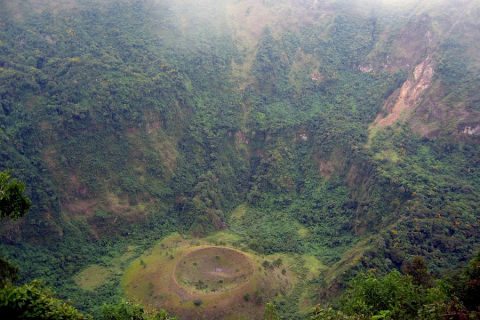 El Boqueron volcano crater, high in the rain forest mist
A Little History
In 1524 Pedro de Alvorado was sent by Cortes to conquer the area. He was a cruel conquistodor who attacked the Mexican Aztecs, and later Guatemala and Honduras.
El Salvador invaded Honduras in 1969 in the 'Soccer War', which followed violent clashes during the qualification matches for the 1970 World Cup. Large numbers of Salvadoreans had moved to Honduras in search of farmland, causing resentment.
El Salvador had a violent modern history with civil war between 1980 and 1992 resulting in many thousands of deaths.
Now tourists are attracted by the friendly locals to see volcanoes, beaches, forests and Mayan ruins.
Joya de Ceren, the only Unesco World Heritage Site, is a large Mayan settlement buried by ash from the Loma Caldera volcano eruption around 600 CE. It offers a snapshot of life from the pre-Spanish period and is referred to as the 'Pompey of El Salvador'.
Some Interesting Facts
The yellow Flor de Izote is the national flower. It's stalk is made into textiles whilst the flower is made into alcohol and even cooked with scrambled eggs.
The official currency from 1892 was the colon, named after Cristobel Colon, who is better known as Christopher Columbus. What a funny name for a currency! In 2001, the colon was replaced by the US dollar.
Pupusa is a favourite food made with corn or rice flour tortillas stuffed with cheese, pork or beans.
The Turqoise browed motmot, with its long blue tail, is the national bird of El Salvador and Nicaragua.
Our El Salvador Activities
Colour the El Salvadora flag, have a go at our printable jigsaw, download our booklet and bookmark...
Help children learn the location of El Salvador and its relationship with other Central American...
Explore Activity Village