These elf shoes are fun to sew and oh so pretty! You could put them out on display or use them as a container for a small gift.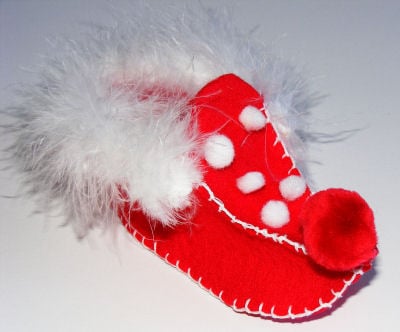 You will need:
Paper
Felt
Thread
Fabric glue
Decorations (pompoms, ribbons, sequins etc). We used red and white pompoms, and white "fur" trim
A loop or ribbon or cord if you want to hang your elf shoes on the tree
Our template (below)


Elf shoe template
Instructions:
Print the pattern on to paper and cut out.
Fold the felt in half. Lay the side pattern piece along the fold and cut out. Now use the remaining pattern pieces to cut one sole and one upper from the same felt.
Using blanket stitch and starting from the centre of the side piece, sewing towards the toes, sew the sole to the side piece.
To sew on the upper, start at the toe and sew down the side.
Decorate the shoes with ribbons, buttons, pompoms and any other trimmings you like, using the fabric glue to stick them on. Attach a loop or ribbon or cord for hanging if you wish.