Here's a fabric flower craft for kids which will use up your scraps, provide practice for kids learning to sew, and create a really pretty display! These flower "yoyos" can be wired as we have done here, or you can glue the flowers onto sticks and stand them in a pot, sew them onto headbands, hats, T-shirts or bags, or stitch a safety pin on the back to make pretty flower brooches, which make lovely little gifts.
You will need:
Fabric in 2 coordinating designs
Buttons Thread
Garden wire
Instructions:
Cut 2 paper circles about 4 and 6 inches diameter. Pin each to one of the pieces of fabric and cut out. Alternatively draw around cups and saucers onto the fabric.
Cut a piece of thread long enough to go all of the way around the edge of your biggest circle with some spare. Knot one end and thread the other.
Sew a loose running stitch around the outside of the largest circle, finishing with the thread to the right side of the fabric.
Pull the thread so the fabric gathers. Secure the gap with a few stitches. Knot the fabric and tie off.
Repeat with the smaller circle.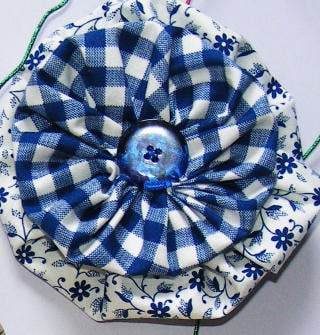 When you have your two yo-yos, layer them up with a button over the top hole. Stitch the button in place going through both yoyos.
Finish off by stitching a length of garden wire to the back, bending the ends into a loop so that they aren't sharp and dangerous. You can now twist your flower onto a branch or pop it in a vase.