Who could resist trying this gorgeous fairytale castle craft! Easy to make from cardboard tubes and others scraps, it makes a fantastic desk tidy which will make any child happy to sit down and do their homework.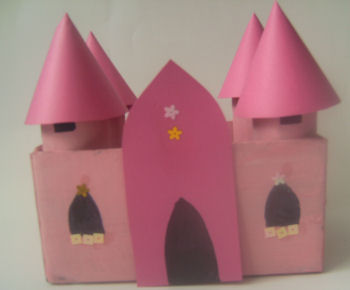 You will need:
4 cardboard tubes
Small box
Pink/purple card
Pink/purple paint
Black pen
Glue
Sequins/glitter/pens to decorate
Cut any flaps off the box. Trim the tubes to size so that they are a couple of inches taller than the box. Glue one tube into each corner and leave to dry.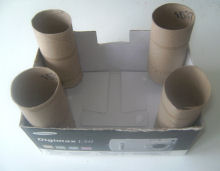 Paint the castle in either pink or purple paint, then leave to dry. From the card cut out two side-plate sized circles. Cut the circles in half to make 4 semi circles. Roll the semicircles into cones and tape to secure. These should be placed (not glued) onto the towers as roofs, so that they become "lids" to the containers within the towers.
For the door way / front tower, draw a rectangle as tall as the box and about 2 inches wide, with an arch at the top (see photo above) and cut out. Glue the front tower to the middle of one of the wide sides.
With the black pen draw windows and doors on to the castle. Use sequins, glitter, pens and any other embellishments to decorate.
Now you can store your pens and pencils in the towers and your pencil sharpeners and erasers (rubbers) in the base of the castle.
Explore Activity Village