Famous Tudors
Tudor times were a golden time for the arts and exploration. We have origami booklets, notebooking pages, colouring pages and more for some of the important names of the day.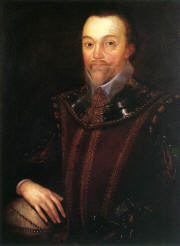 Francis Drake
Sir Francis Drake was one of Elizabeth I's favourites and a very successful sea captain and privateer.
Sir Walter Raleigh
Sir Walter Raleigh, one of Elizabeth I's favourite courtiers, is known as a swashbuckling hero of the Tudor age, as well as a poet, writer, explorer and soldier.
William Shakespeare
Learn about William Shakespeare, the world's most famous playwright, and enjoy our colouring pages and printable activities, puzzles and worksheets.
More Tudor Resources

Colouring pages, notebooking pages and booklets for all the Tudor Kings and Queens including the six wives of Henry VIII.
House of Tudor
Explore Activity Village