Here is an original craft for Easter! Tracy shows us how to make these pretty felt Easter decorations which you can use to adorn your Easter cards, felt Easter eggs, or your Easter table.
Needle felting, or dry felting, is a simple way of transforming wool into felt creations. It requires little by way of equipment but does involve the use of very sharp needles so children will need supervision. Felting needles are very sharp and are barbed – this is what helps mesh the wool together to form the felt.
You will need:
Assorted wool rovings (available online or from large craft retailers)
Felting needle (available online or from large craft retailers)
Suitable cookie cutter
Large sponge
Instructions:
Place your cookie cutter on to a sponge. (Please note that you can buy specially designed mats for needle felting, but we have always been happy with the results we have got from using a large sponge – far cheaper.) Place a layer of wool rovings into your cookie cutter – try not to make it too thick, you can always add more wool later.
Very carefully stab the needle through the wool into the sponge – this is the basic process. You will need to work your way over the wool many times so keep stabbing your needle in to the wool until you can see that it is felting together.
Next you need to ensure that there is an even filling of wool so check for any patches. If you find any, and add more wool rovings there and repeat process.
Finally once you are happy that the shape is evenly covered you need to turn the shape over and felt the reverse. You will probably find that the felt has started to felt to the sponge, so peel it carefully off the sponge and reverse shape. Then continue stabbing the reverse of the shape to create the felt.

Here is the reverse before felting ...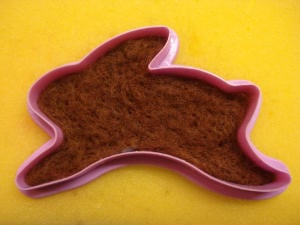 ..and here is the reverse after felting.
You may want to add more felt to add details to your shape. We added a small piece of wool roving to make a tail on our rabbit shape.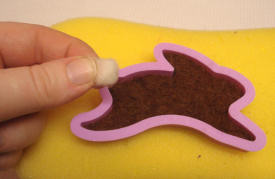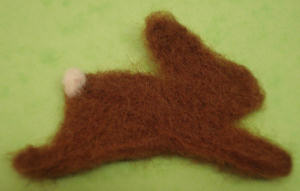 We have found needle felting quite addictive, so be warned, you may end up with a whole host of creations!
Here is one way we have used our felt Easter decorations:
And here is another: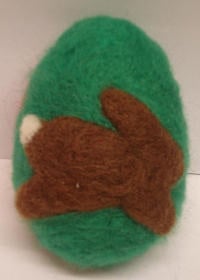 Explore Activity Village