This felt Matryoshka doll activity can be adapted for a range of ages, and the resulting dolls are sure to be treasured! We've used simple sewing skills to complete our dolls but you can substitute fabric glue for at least some of the sewing if you wish.

A trio of gorgeous Matryoshka dolls!
You will need:
Flesh coloured felt
Bright coloured felt (3 colours)
Ribbon
Embroidery thread and needle
Toy stuffing
Felt flowers/flower buttons/fabric paint
Fabric glue (optional)
Our template (download below)
Instructions:
Cut two bodies, one shawl, and one tummy from bright colours of felt.
Cut one face from flesh coloured felt, and one piece of hair from brown felt.
Sew or glue the hair onto the face. You may want to embroider on the face at this stage.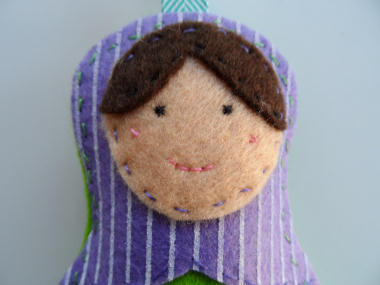 Felt Matryoshka doll face detail
Sew or glue the face to the shawl and sew the shawl to one of the bodies.
Decorate the tummy with buttons, embroidery or felt flowers (or leave plain for now and add fabric paint later). Sew the tummy panel to the same body piece as the shawl.
Sew the two body pieces together around the edge, securing a loop of ribbon at the top of the head if you want to hang your doll. Leave a gap to lightly stuff the doll and sew closed.
If you have not decorated the face and tummy, decorate now with fabric paint.
Have a look at our lovely dolls below, for inspiration!

For this lovely Matryoshka doll, we've sewn on a pretty flower button and embroidered the stem and leaves.

Here we used a bought felt flower embelllishment, gluing it on with fabric glue and then adding decorative stitching in the centre.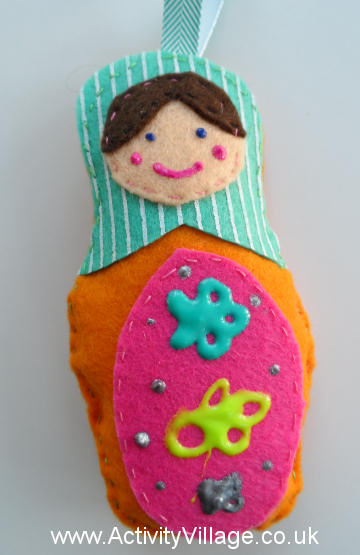 For this lovely bright Matryoshka doll, Sam added some flowers and dots with puffy fabric glue. The face was also drawn with fabric glue.
Explore Activity Village