Have a go at our felt rabbit craft - it's fun to make and fun to cuddle! Practise easy stitches including running stitch and blanket stitch to make this rabbit toy. Of course it is perfect for Easter as well as Chinese New Year of the Rabbit.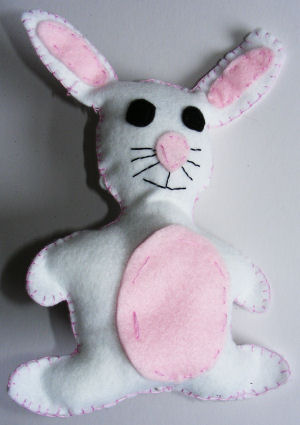 You will need:
2 pieces of white felt (or any other colour)
Pink felt
Black felt
Black and pink embroidery threads
Pompom
Toy stuffing
Fabric glue


Rabbit template
Instructions:
Use our template to cut two rabbit shapes from white felt.
Cut two black felt circles for the eyes. Sew these to one of the rabbit faces with black thread.
Use the black thread and backstitch to embroider the whiskers and mouth.

Detail of our rabbit's face to help!
From pink felt cut a small circle for the nose, a large oval for the tummy and two small, thin ovals for the ears. With pink thread and running stitch sew the pieces to the body.
Using blanket stitch sew the two rabbit bodies together. Leave a small gap to stuff the rabbit and the sew closed.
Finish off by gluing on a pompom tail!