This game is perfect for enthusiastic ice-skaters, for kids who love to watch ice skating shows, and of course for playing during the Winter Olympics. But actually, it's strategic, exciting and fun, so you don't need an excuse to play it! You will need our printable (printed onto card), a file folder and some silver card or foil. The game is for 2-4 players.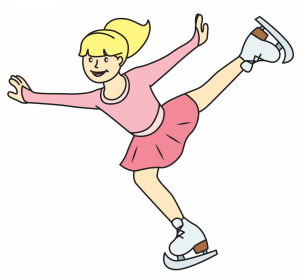 You will need:
A file folder
Silver card or foil, large enough to cover the inside of the file folder.
Glue or double-sided tape
Set of cards (below)
In preparation:
Make your rink, by cutting your silver card or foil to fit the inside of your file folder and gluing it in place. If you are using a large piece of card you may want to score it down the middle so that the rink can be folded up.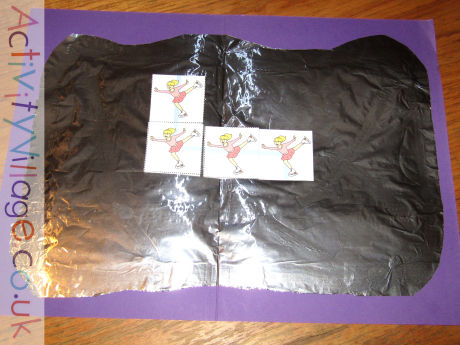 Our figure skating file folder game in progress!
How to play:
Deal out the cards to each player as follows:
2 player game - 7 cards
3 player game - 6 cards
4 player game - 5 cards
Place the rest of the cards face down in a pile next to the board. Decide which side of the rink is 'top'. When cards are played the head must be at the top.
Each player looks at their cards but keeps them hidden from the other players. The youngest player goes first. They place one of their cards face up on the 'rink'. Player 2 places a card that joins on to the blue line and play continues as follows.
To play a card:
The blue line must be on the rink.
The blue line must not lead off the rink - in other words, it must be possible to play a card next to it.
The blue line must not lead to the side of an existing card without a connecting line.
Spin cards can send the line in any direction. However, a spin card can only have 2 connecting cards - the same as all other cards.
If a player cannot go, they must draw another card.
The winner is the player who either gets rid of all of their cards or completes a circuit to complete their figure skating routine!
Have fun!