Fireworks
Fireworks at their best are loud, spectacular and exciting! Of course in the UK we are used to our annual Bonfire Night celebrations, and fireworks are very much a feature of Diwali, Fourth of July, Canada Day and New Year, too.
We've got a great variety of firework colouring pages, printables and craft ideas here at Activity Village, so whatever your reason, we hope you will find something useful and even inspiring! Browse our activities below.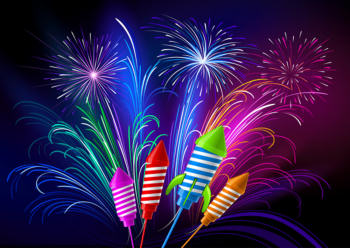 More Fireworks Fun
NB: Activity Village is not responsible for this video footage. Please remember that children should not browse video sharing sites unsupervised.
Fireworks song from Madagascar 3 - lovely animation!
Spectacular New Year fireworks in London!