George II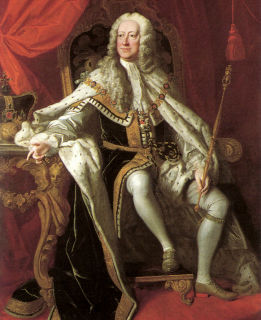 George II (1683-1760) holds a number of "records". He was the last British king to be born outside Great Britain, having been born in Hanover (before his father, George I, succeeded to the British throne). He was also the last British king to lead an army in battle.
George II became King in 1727. During his reign he fought off attempts to depose him and replace him with the Catholic claimant to the throne, James Stuart. Have you heard of Bonnie Prince Charlie? He was Charles Stuart, James's son, and he led the rebellion. Although he was more "English" than his father, George II still spent a lot of his time in Hanover, and Parliament (led by Prime Minister Sir Robert Walpole) ran the country.
Geroge II is known for having many mistresses and a short and nasty temper, and being coarse and uncouth. However, as the country prospered during his long reign, he became more popular and by the end of his reign was much respected. His son Frederick died unexpectly 9 years before his father, and therefore George's grandson, George III, became the next king.
George II was the last British King to be born outside Great Britain. What other facts can you find out about this second Hanoverian king? Record them on our George II notebooking pages.
Explore Activity Village