Germany
What do the kids know about Germany, the largest and most populous country in Western Europe? Find out something about its geography, culture and sporting prowess below - all in "interesting fact" format to appeal to the kids - and then print and enjoy our collection of flag colouring page, jigsaw, notebooking pages and other printables.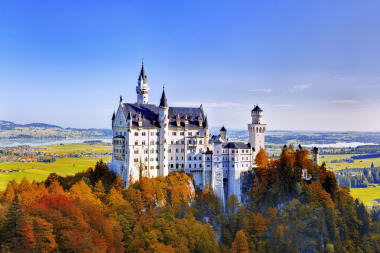 Neuschwantstein Castle in the Bavarian Alps, Germany
Learn About Germany
Geography of Germany
The Federal Republic of Germany is the largest country in Western Europe and the most populous, with over 83 million inhabitants. Surrounded by nine countries from Denmark in the north to Austria in the south east, Germany is divided into 16 states called 'lander', each with distinctive cultures.
Eastern Germany is home to Berlin, the restored Saxon capital of Dresden, and the town of Meissen, famous for porcelain. Berlin was divided for 28 years by the infamous Berlin Wall built by the Communist East Germans. In 1990, when West and East Germany were reunified, Berlin replaced Bonn as the capital city.
Northern Germany is home to Hamburg, Germany's second largest city, and Hamelin, home of the legendary Pied Piper.
Central Germany is Germany's industrial heart, as coal was mined along the Ruhr valley. Cruise boats now follow the serene Rhine river which is dotted with historical sites like Heidleburg, the site of the country's oldest university, founded in 1386. Cologne on the Rhine is home to Germany's most magnificent gothic Cathedral. Dating from the 13th century, it was the tallest building in the world on completion in 1880!
Still in Central Germany, Quedlinburg, in the Harz Mountains, was once the capital of the Holy Roman Empire. It is now a World Heritage town with 1,300 half timbered houses, including the oldest houses in Germany.
Southern Germany is home to the elegant city of Munich, which hosts the traditional Oktoberfest celebrations when thousands eat and drink in massive tents, dressed in traditional costumes. Munich is also the home of car giant BMW.
More Interesting Facts about Germany
Neuschwanstein Castle (see photo above) in the Bavarian Alps was built for King Ludwig II. It looks like a fairy tale castle. You might recognise it from the film Chitty Chitty Bang Bang! It also inspired Disneyland's Sleeping Beauty Castle.
The Black Forest is the home of the cuckoo clock and the Black Forest Gateau with its four layers of chocolate, cherry and cream!
Germany is known as 'Das Land der Dichter ind Danker' which means the land of poets and thinkers. Famous Germans of old include Bach, Beethoven, Brahms and Goethe.
Germany was the first country in the world to use daylight saving in 1916.
Germany's famous Christmas markets are held in most towns each December. Stallholders sell traditional wooden gifts and lebkuchen gingerbread biscuits for children.
German motorways are called 'autobahn'. Many autobahn have no speed limit so cars drive very fast.
The Brothers Grimm recorded folk tales in a book called Grimm's Fairy Tales, which included famous stories such as Cinderella, Snow White and Hansel and Gretel.
Bratwurst sausage is probably the most widespread snack available from street stalls.
Sports in Germany
Germans are a sporty people. In a country with nearly a million sports clubs it no surprise Germany is the only country whose men's and women's teams have won the World Cup. Drivers Michael Schumacher and Sebastian Vettel have dominated the world of F1 car racing in recent years.
Germany plans to send a large team of 151 competitors to the Sochi Winter Olympics in 2014 including skier Maria Hofli-Riesch, winner of 2 gold medals in 2010.

The Germany flag is instantly recognisable with its three stripes in striking colours. We have...
Have fun fact finding or locating Germany on the map with our Germany worksheets, useful for a...
Explore Activity Village