Gibraltar
There are many interesting facts to be discovered about the tiny Gibraltar - although of course it is most famous for its "apes"! We also have a complete set of Gibraltar flag printables and flag colouring page.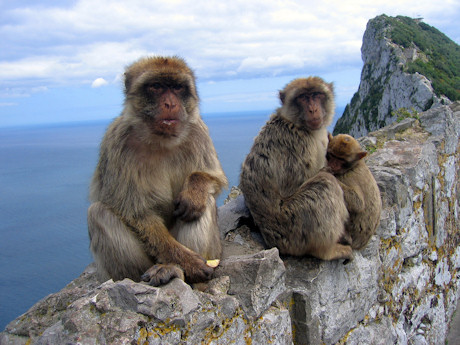 Barbary apes in Gibraltar
A Little Geography...
Gibraltar lies at the southern end of the Iberian Peninsula, at the entrace to the Mediterranean. Its northern border is with Spain.
Gibraltar is less than 7 square kilometres in area, and is distinguished by the Rock of Gibraltar, 426 metres high and made of limestone.
Over 500 different species of flowering plants grow on the Rock, and the upper areas are part of a nature reserve in which over 200 Barbary macaques (commonly referred to as apes) live. They are the only wild apes or monkeys in Europe, and tourists visit Gibraltar to see them.
A Little History...
Gibraltar has an ancient and turbulent history. Evidence of Neanderthal occupation has been discovered. Phoenicians, Cathaginians, Romans and Vandals all lived there. In the early 5th century, Gibraltar was absorbed into the Visigothic kingdom of Hispania, and then came under Islamic rule when Iberia was conquered by the Moors in 711 AD. It remained in the hands of the Moors until the early 12th century, then changing hands many times until it was passed to Spain in 1501.
Gibraltar was captured from Spain in 1704, and ceded to Great Britain in 1713 "in perpetuity". It's strategic position made Gibraltar an important base for the Royal Navy.
During the Second World War Gibraltar's population was evacuated and the Rock's fortifications were strengthened.
Gibraltar remains a British Overseas Territory.
And Some Interesting Facts...
Feeding the Gibraltar macaques is punishable by a fine of £4,000!
Gibraltar has endured 14 sieges over the years.
Legend states that, if the apes leave Gibraltar, Gibraltar will cease to be British.
Gibraltar has its own dialect, Llanito.
Natives of Gibraltar are known as Gibraltarians.
Part of the James Bond movie, The Living Daylights, was filmed in Gibraltar. Bond, played by Timothy Dalton, parachutes onto the upper Rock.
A major road crossing the airport's landing strip. When a plane is using the airport runway, cars and pedestrians have to wait on either side, rather like a railway crossing!
John Lennon and Yoko Ono were married on the Rock, although they were only on Gibraltar for one hour before heading off to Amsterdam for their honeymoon.
If you need a printable flag for Gibraltar, you've come to the right place! We've got...
Explore Activity Village