These gingerbread house cookies are not only absolutely delicious and great fun to make and decorate, but they are the easiest way to make a gingerbread house with young or groups of children.

A collection of gingerbread house cookies!
For approximately 10 houses you will need:
1 quantity of our gingerbread recipe
A house shaped cutter (or a sharp knife and a card house template)
Writing icing
Small sweets, chocolate chips, glace cherries – whatever you have in your cupboard
Instructions:
Roll out your gingerbread on a floured surface until it is about 1/4 inch (5mm) thick.
Cut out your biscuits with either a cutter or by placing a card template on to the gingerbread and cutting around the edges. Pop them onto a greased baking tray. If you intend to hang them on your Christmas tree make a hole at the top with a plastic drinking straw.
Bake in an oven preheated to 180˚C or Gas Mark 5 for 10-15 minutes, or until they have turned golden brown. They should still feel slightly soft. Cool on the tray for 10 minutes before removing to cooling rack.
Decorate the biscuits with icing and the other bits and pieces, using the icing as glue.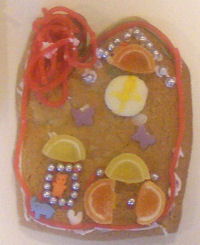 Thread through some thread or ribbon and knot.
If you are doing this with a big group, it is obviously easiest to prepare the cookies well in advance. It makes a great activity for a children's Christmas party or even a Christmas fete, where you can charge children to decorate their cookies.