These pinecone decorations are a quick and easy craft which children of all ages - even the youngest - will enjoy. My son made one of these when he was two year's old and we still proudly put it on the tree every year now that he is eighteen. (That's why there isn't too much glitter left on our pinecone decorations!)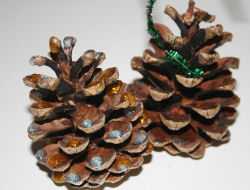 You will need:
Pinecones
Pipe cleaners (chenille stems)
White glue (PVA)
Paintbrush
Glitter
Glitter glue (optional)
Wrap a pipe cleaner around the pipe cleaner and form the top into a rough hook shape so that you can hang your finished decoration on the tree.
Now paint the edges of the pinecone with PVA glue, stand the pinecone on a paper plate of newspaper, and sprinkle with glitter. If you are doing this with a large group of children you can put the glitter out into bowls and dip the pinecones into it, which will give heavier coverage.
Alternatively, put dollops of glitter glue all over the pinecone. This is the less messy option, but it does take a long time to dry.
Explore Activity Village