Children will love recycling a CD into this pretty, glittery sun catcher. A quick and easy craft.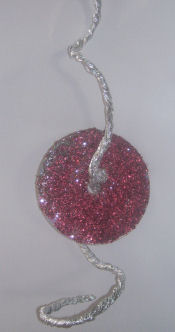 (As you can see, we had a bit of an issue with our camera photographing this craft! Please use your imagination - it really is very pretty and worth doing!)
Unwanted CD, CD-Rom or DVD
PVA glue (white glue)
Glitter
Kitchen foil
Thread
Cover the front of the disc (the side with any picture on) with glue. Sprinkle all over with glitter and leave to dry. Older children may want to make patterns (perhaps stripes or concentric circles) with different colours of glitter.
Take a good length of foil (about 1m) and roll length-wise until left with a thin strip. Twist all along the length to secure loose edges. Thread the foil through the centre of disc and twist to secure the disc in place. Coil the foil into a nice pattern.
With a needle, take a piece of thread through one end of the foil and use this to hang your sun catcher.
Explore Activity Village