This is a simple technique for making prints which children of all ages will be able to have a go at, and it is a good "quiet" activity for a Halloween party (although we wouldn't advise trying it with a large group of kids as things can get messy!) The finished Halloween prints look great displayed around the room. Alternatively, older children could make smaller prints to use in handmade cards and invitations.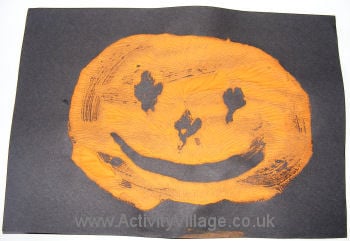 Jack's pumpkin print
You will need:
Wipe-clean surface (we used a plastic tablecloth but a tray would work too)
Paint
Black paper
Instructions:
Paint an area on the table slightly smaller than your paper. With your finger, draw a picture in the paint.

Remember if you are going to do letters, you will have to reverse them!
Ghosts or haunted houses work well in white paint, and witches in green.
Carefully press down your paper on top of the paint, making sure that you don't move and smudge. Lift up your print and leave to dry.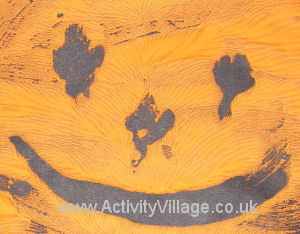 Pumpkin print detail - you get great texture with this technique!
For the pumpkin we painted an orange oval on the table and with out finger drew the pumpkin face, before printing on to paper.

Ghost print detail