It is always fun to watch the paint pull away from your wax drawings when doing wax resist paintings, and the effect with a wash of black paint for Halloween is suitably gruesome and spooky!

Jack's pumpkin wax resist painting
You will need:
Paper
Wax crayons or oil pastels
Black watercolour paint
Instructions:
Draw a picture on your paper with the crayons or pastels.
Water down the watercolour paint so it is very runny and paint over the top.
Your picture will come through the paint.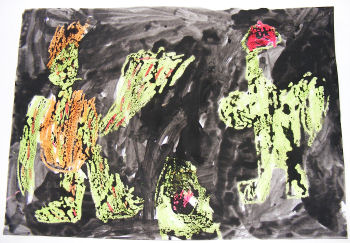 Experiment with different colours!

Pumpkin wax resist detail - the remains of the black paint on our pumpkin make him look very scary for Halloween!