This super caterpillar is a fun craft any time. Kids will love painting their hands two colours and making lots of different body segments! We've used the caterpillar to make a number frieze, too.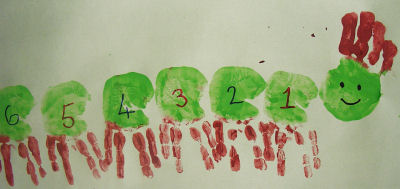 You will need:
Construction paper
Green and brown poster paint
colouring pens
Paint the palm of your hand green and the fingers brown (miss off the thumb). Print a line of hand prints, however long you like, adding more paint when you need it. At one end of the line print one handprint with the fingers pointing the opposite direction to the others.
When the paint is dry draw on the face.
If you like you can add a number to each of the body sections to make your own number frieze.
Explore Activity Village