This Hanukkah Wish Star makes an excellent family or classroom activity, encouraging children to think about what they are grateful for and their hopes for the year ahead.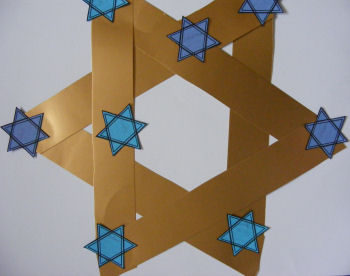 You will need:
Gold card
Blue card (printer card to use with our Hanukkah writing prompts, or normal card for you to cut your own stars)
Glue

Hanukkah Writing Prompts
Instructions:
Cut six strips of gold card. Glue three together to form a triangle, trimming the corners into points. Repeat with the other three strips of card.
Glue the two triangles together to form a Star of David.
Print our Star of David writing prompts onto blue card and cut out (or just cut your own stars).
On each star write a wish. Glue your wishes to the gold star.
We have only a few blue stars on ours but you could do it as a class or group project and cover the entire gold star.
Explore Activity Village