This is an interesting way to create a truly stunning picture of the harvest moon against a sunset sky, using tissue paper strips. Even the youngest children will enjoy doing this, or you could have a younger child make the moon while an older child creates the background.
You will need:
Art (bleeding) tissue paper in red, orange and yellow
Regular tissue paper in shades of orange
Paper plate
Glue
Card
Instructions:
Rip the regular tissue paper into small pieces, scrunching into balls, and glue to the paper plate.
When the paper plate is covered, set aside to dry.
Rip the art tissue paper into strips.
Paint the card with water and layer the strips of tissue paper to cover the card. Paint over another layer of water.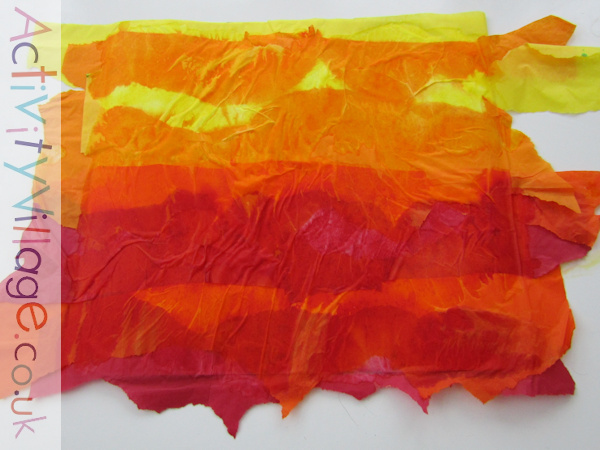 Layering strips of tissue paper over wet card
When the card is dry, the tissue paper will peel off - leaving colour on the card.

Colour left by the tissue paper strips when dry
Glue the tissue paper moon on to the card to finish the picture.