This Heart mask is perfect for kids to make and wear on Valentine's Day. Start by cutting a pointed heart shape out of card. Paint red, or paste the surface of the card with white glue and then cover with red crepe paper (this will give an interesting texture when the crepe paper is dry). You could also cover the heart with fabric or felt if you prefer. Cut out the eyes.
Add white fur trim or cotton wool to the top of the heart, and two cute red ribbon bows. Collage the face with bits and pieces from your supply cupboard. In the photo you will see: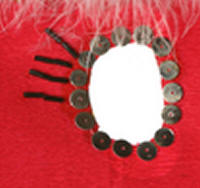 Buttons and short lengths of black shoe lace to make the eyes and the eye lashes.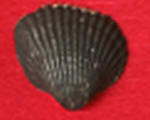 A grey shell for the nose.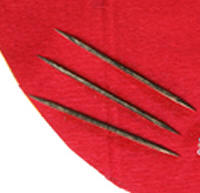 Grey painted tooth picks for the whiskers (use care!)

An oval of gold card onto which seed beads have been sprinkled, for the mouth.
Explore Activity Village