We found these lovely large sequins at the local craft store and snapped them up! With them we have made some very pretty, but simple, home-made Valentine's Day cards.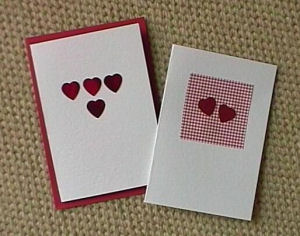 Fold a simple piece of white (or pink) card in two and get your children sticking! We used school glue (PVA) and exercised lots of restraint! Younger children can cover the page with as many sequins as they like - usually the more the better.
For the card on the right, we cut a simple square out of our red gingham scrapbook paper to use as a mount.
Explore Activity Village