Don't leave your favourite soft toy at home this year! The kids will enjoy getting Ted ready for his summer holiday or vacation, too!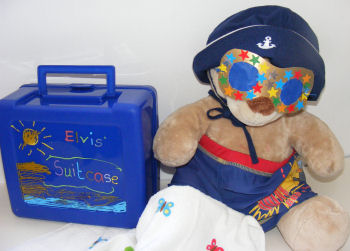 Ted's Shades
You will need:
Card
Stickers/pens/bits to decorate
Elastic
Tissue paper
Glue
Instructions:
Cut out the shape of a pair of glasses from card (if you need help, you could print one of our mask templates).
Decorate your glasses with pens or stickers.
Cut two small pieces of tissue paper and glue these to the back of your glasses to cover the eye holes.
Make a hole either side of the glasses and tie some elastic through.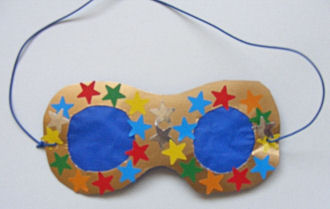 Ted's Suitcase
We made Ted's case from an old lunchbox. Simply remove the design, if it is stuck on, or paint over, then decorate the lunchbox with acrylic paints.

Print out a suitcase label, if you like - or use this to stick over the existing design on your lunch box.
Suitcase label
Ted's Clothes
We found some outgrown sunhats and swimming shorts and picked up a cheap bright towel from a thrift store (or you could use a face flannel or kitchen towel). Don't forget to pack Ted a book and some sun lotion!
Explore Activity Village