Honduras
Take a quick tour of Honduras with the kids with our interesting facts and photos! We also have a full set of flag printables and colouring page of the Honduran flag - scroll down for the printables.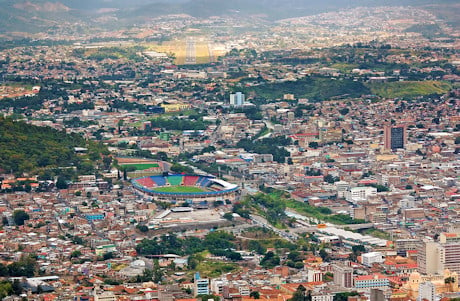 Tegucigalpa, capital city of Honduras
A little geography...
The Republic of Honduras in Central America is sandwiched between Nicaragua to the south, San Salvador in the west and Guatemala in the north. It has a long northern coastline on the Caribbean Sea and a narrow coast on the Pacific. Honduras is a largely mountainous land.
Tegucigalpa, the capita , is a sprawling city of over one million people. It was badly damaged by Hurricane Mitch in 1998, when heavy rain caused landslides and floods across the country.
A little history...
Honduras was part of the Mayan civilisation. The ancient ruined city of Copan was settled from 400 AD to 800 AD before becoming overrun by jungle. An American named John Stephens began excavations in 1838. It is now a major tourist destination.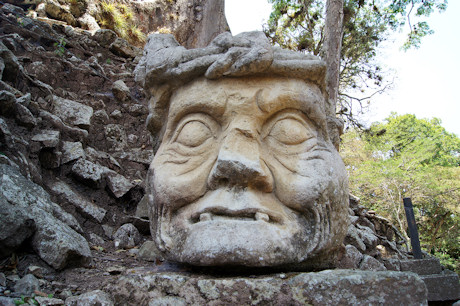 Stone carving remains of Mayan civilisation at Copan
Honduras means "deep water". It was named after Christopher Columbus sailed by in 1502. The 16th century saw Spanish explorers such as Cortes establish control of the region. Gold and silver was mined using African slaves and the native Indian population suffered great losses.
By the 18th century Honduras was fought over by rival European settlers. In 1838 Honduras declared independence.
Tropical rainforests are home to over 700 species of bird from colourful toucans to the national bird, the scarlet macaw. Jaguars, three toed sloths and pumas are amongst the exotic animal life which can be seen.
And some interesting facts...
Hondurans eat corn tortillas and tamales, often covered with a spicy salsa. Tropical fruits and coconut are also popular.
Winston Palacios plays soccer for Stoke City in England. He is one of many successful Honduran footballers.
September 10th is known as the Day of the Child. It is a special day for all Honduran children, who are given gifts and allowed to get sweets when they break the 'piñata'.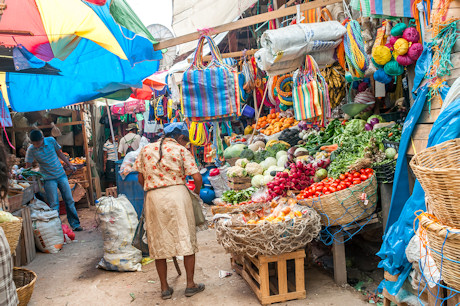 Colourful market in modern Copan, Honduras
---
About the Honduras Flag
The national flag of Honduras was based on the flag of the Federal Republic of Central America. The two blue bands represent the Pacific Ocean and the Caribbean Sea, while the inner white bad represents the land between the two and the peace of the country's people. There are five stars in the centre which represent El Salvador, Costa Rica, Nicaragua, Honduras and Guatemala, the five original Central American Provinces.
---
Our Honduras Resources
Explore Activity Village