Horses
Horses are of course one of the world's most popular domesticated animal, having been used over the years for transport, farmwork, entertainment and companionship. A female horse is called a mare, and a baby horse is called a foal.
Fun Fact: Horses can sleep either standing up or lying down.
We've got a fun collection of horse-related activities to enjoy with the children, including a selection of colouring pages for a wide range of ages, and a set of our popular printables. More coming soon!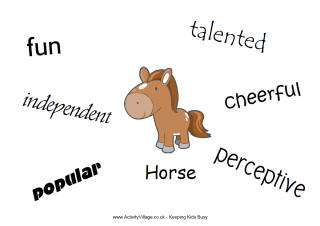 The horse is one of the twelve animals of the Chinese Zodiac. If your child is born in the Year of the Horse, you might want to have a look at our activities, here:
Year of the Horse
Explore Activity Village