We've always been a bit nervous about hot glue, but as long as you supervise very carefully - and for younger children do all the gluey bits yourself - this is a great craft to tie into different themes and holidays, or just experiment with. We decided to do a heart for Valentine's Day.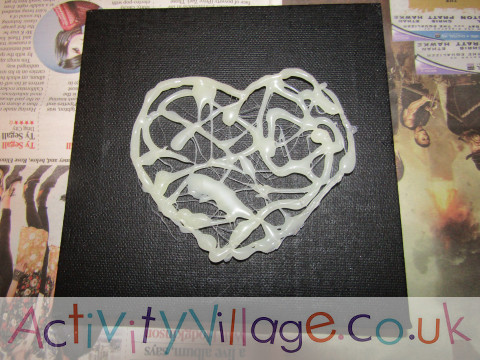 You will need:
A sheet of plastic (we used a plastic folder pocket)
A hot glue gun and glue sticks
Spray paint
Card (we used an art canvas we had available)
Instructions:
Using the glue gun draw a heart shape on the plastic. Make a doodly pattern in the middle of the heart.
Leave aside to cool.
When the glue has set, peel it off the plastic and arrange it carefully on the surface you are painting.
Following the directions on the paint, in a well ventilated area, apply a coat of spray paint to the surface.
Leave to dry and then remove the stencil to see the outline.
We think the painted stencil looks pretty enough to display too!

Our stencilled art canvas

The original hot glue stencil - so pretty!
Explore Activity Village