Hungary
What do you know about Hungary? There is plenty to discover in our brief discovery of the country below. We also have a full set of flag printables and Hungarian flag colouring page for you to print.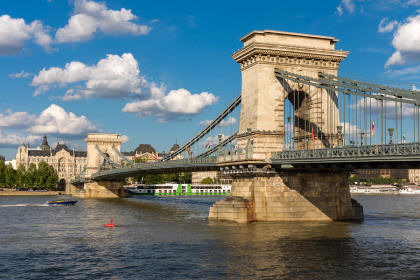 The Chain Bridge, Budapest, Hungary
Learn about Hungary
Geography of Hungary:
The Hungarian Republic is a landlocked central European nation.
Hungary is mostly low lying with 85% of the land below 200 metres, including the Danube and Tisza plains.
Lake Balaton is the largest freshwater lake in Central Europe. It is 75 km long but very shallow. Siofok on the southern shore is a popular beach resort.
A Brief History:
Attila the Hun was born here in the 5th century CE. He expanded the Hunnic empire, defeated the Roman army and invaded Greece, Italy and France.
The Magyars came from southern Russia and the Black Sea a thousand years ago. They were nomadic horsemen.
The Hungarian nation was established when the land was converted to Christianity in 997 CE by Saint Stephen.
Hungary was once part of the Ottoman and Hapsburg Empires, and was a Communist state from 1949 -1989.
Capital City:
The capital city, Budapest, was formed in 1873 when Obuda, site of a Roman settlement, was united with Buda and Pest, which are on either side of the River Danube.
Buda is home to Castle Hill, the highest point in the city. Buda Castle was the Royal Palace, home to Hungarian Kings for 700 years. There are over 10 km of underground tunnels and a Tower with seven turrets!
Pest, on the right bank, is a lively area, home to the famous Gundel Restaurant, once considered the finest restaurant in East Europe, which reopened in 1992.
Budapest has many thermal springs. The Szechenyi Baths are the largest medicinal baths in Europe and there are 18 pools to choose from. Visitors can play chess whilst they relax in the huge outdoor pool.
More Fun Facts:
Hungarian goulash is a popular stew made with beef, onion, tomato and paprika, the most common spice. It is bright red and can be very spicy.
The Hungarian language is unlike most Indo-European languages. It originates from the Urals in Russia and is related to Finnish and Estonian.
There are around 5 million Hungarian speakers living outside the country, in addition to the population of 10 million.
Hungarians have won the sixth most gold Oylmpics medals, in sports like swimming and water polo. Fencer Aladar Gerevich won gold medals each Games from 1932-1960.
Famous composers Liszt and Bartok were Hungarian.
---
About the Hungarian Flag
This is the flag of Hungary as it has been since November 1957, although over the years there have been many other versions of this flag, including the same colours with the Hungarian coat of arms. There are many different interpretations of the meanings of the three colours; some say red represents strength, white represents faith and green represents hope.
---
Our Hungary Resources
Explore Activity Village