Encourage the children to think about the good things they have with this "I Am Thankful" turkey craft idea for Thanksgiving. It makes a super classroom or group display project.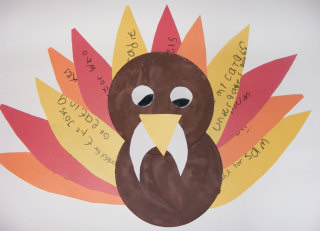 You will need:
Two small paper plates
Brown paint
Construction paper
Our template (optional)
Scraps of yellow and white paper
Black pen
Glue
Pens


I Am Thankful Turkey template
Instructions:
Paint the back of the two plates brown and leave them to dry. When dry, glue the plates together along the rim.
Cut an arch shape from the scrap of white paper to be your turkey's beard. Glue this to one of the plates. Cut a yellow triangular beak and glue this on top of the beard. Cut out two white circles for the eyes, drawing on the pupils with black pen before gluing them to your turkey.
Cut out feathers from construction paper. On to each feather write something you are thankful for. If you are doing this craft with lots of children, you can print our template directly on to coloured paper to save time.
Glue the feathers to the back of the bottom paper plate in a fan shape.
Explore Activity Village