Iran
Learn a little about Iran with the kids with our interesting facts and photos, and enjoy our flag printables and flag colouring page.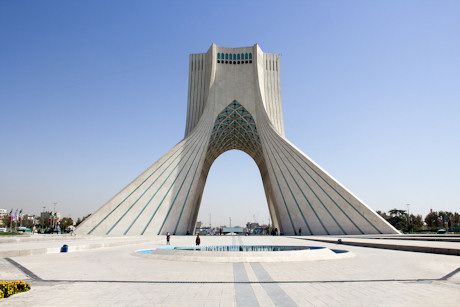 The Azadi Tower in Tehran
A Little Geography
The Islamic Republic of Iran in western Asia surrounded by seven countries including Iraq to the east and Afghanistan in the west. The Caspian Sea lies to the north, whilst the Persian and Oman Gulfs are to the south.
Iran has a population of around 81 million, the majority of whom are young and live in the cities. Nearly half the country is arid desert and only one river, the Karun, is navigable.
The country's name was changed in 1935 from Persia to Iran, which means Aryan in Persian.
Iranians are predominantly Shia Muslims.
The official language is Persian, also known as Farsi, although other languages such as Arabic are widely spoken.
Tehran, the capital city, is a teeming metropolis of 12 million. It is overlooked by the snow-capped Mount Damavand, an extinct volcanowhich is 5,600 metres high.
The Azadi Tower was built in 1973, at the west entrance of the city, to commemorate the 2500 anniversary of the beginning of the Persian Empire. It contains 8,000 blocks of white marble.
Iran is an oil rich country containing around 10% of the world's reserves.
And Some Interesting Facts
Iran is the world's largest producer of caviar. This luxury food of fish eggs comes from the Caspian Sea and is very salty.
Persepolis, the ancient capital, is a Unesco World Heritage site famous for its grand marble palaces and carved friezes. It was looted by Alexander the Great.

Just some of the ruins of the ancient city of Persepolis
Imam Square in the city of Isfahan is the world's second largest square (after Tiananman Square in Beijing, China).
Iranians are renowned for poetry. Famous works include the Rubaiyat of Omar Khayyam from the 12th century.
Persians were fond of grilled meat kebabs. Iranian cuisine uses dried fruits, rice, fresh herbs and spices such as saffron.
Persian cats came from mountain regions where they needed long coats to keep warm, although their exact country of origin is unclear.
In September 2013 President Rouhani spoke by phone to US President Obama - the first direct conversation between the leaders of these countries since 1979.

A grumpy Persian cat!
---
The Iranian Flag
The Iranian flag is a tricolour of green, white and red, with a red Islamic emblem in the centre on the white stripe. What looks at first to be a pattern along the edge of the green and red stripe is actually the words "Allahu Akbar", or "God is great", repeated 11 times in stylised script.
---
Our Iran Resources
Explore Activity Village