Learn About Australia
Learn more about Australia and its people, landscape, history and fascinating wildlife with our large collection of worksheets. You might like to save yourself time with our handy Australia Study Pack.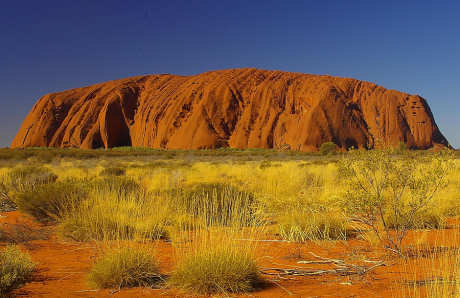 Uluru, or Ayers Rock, in Australia's Northern Territory, is sacred to the Aboriginal people of the area and is a UNESCO World Heritage site.
A Little Geography
Australia is the only country in the world that covers an entire continent (the smallest of the world's continents). It is one of the largest six nations that is surrounded completely by water.
Australia is the world's 6th largest country by area and has a population of around 22 million.
Australia's land mass is 32 times greater than the United Kingdom.
The mainland and island of Tasmania are surrounded by many thousands of smaller islands.
The lowest point is Lake Eyre (16 metres below sea level) and the highest peak is Mt. Kosciuszko (2228 metres above sea level).
Nearly 20 per cent of Australia's land mass is classified as desert, with other climatic zones ranging from tropical rainforests to snow covered mountains.
80 per cent of Australian plants and animals are unique to Australia and not found anywhere else in the world, and include the kangaroo, koala, echidna, dingo, platypus, wallaby and wombat.
A Little History
Because it was isolated from the rest of the world, Australia was an uninhabited island until about 60,000 years ago. It is thought that the first people arrived from Indonesia in boats that were able to carry them across the Timor Sea.
Before the arrival of British colonisers in 1788, Australia was inhabited by the Indigenous peoples - Aborigines and Torres Strait Islanders (also sometimes referred to as the First Australians).
Europeans first discovered Australia in 1770 when Captain James Cook mapped the island's east coast and claimed the land for Great Britain.
Colonization of Australia began in 1788 when Captain Arthur Phillip landed in Port Jackson, which later became Sydney. On February 7 1788, he issued a proclamation that established the colony of New South Wales. New South Wales was settled as a penal colony – a place where Britain could send convicted criminals because the prisons in Britain were overcrowded. The movement of prisoners to Australia ended in 1868.
In 1851, gold was discovered in Australia, which significantly increased the population and boosted the economy.
Five more colonies were founded by the mid-1800s (Tasmania in 1825, Western Australia in 1829, South Australia in 1836, Victoria in 1851, and Queensland in 1859).
On 1 January 1901, Australia became an independent nation when the British Parliament passed legislation allowing the six Australian colonies to govern in their own right as part of the Commonwealth of Australia. The Commonwealth of Australia was established as a constitutional monarchy. Under the Constitution, the reigning British monarch is also the Australian monarch, and therefore Australia's head of state.
And Some Interesting Facts...
Australia is the driest of any continent on earth other than Antarctica.
The Great Barrier Reef is regarded as the world's largest living organism, and is often listed as one of the Seven Wonders of the Natural World.
There are three times as many sheep than people living in Australia. There are also more kangaroos than people!
17 of the world's most poisonous snakes can be found in Australia.
The Australian state of Tasmania has the world's cleanest air!
The popular sport 'Australian Rules Football' was originally created for cricket players to play in their offseason.
Sydney is Australia's largest city, but NOT its capital – Canberra is the country's capital city.
Uluru (Ayers Rock) is known as the largest monolith in the world and is over 8km wide at its widest point.
Australia has over 10, 000 beaches, so sports like surfing are very popular!
Our "Learn About Australia" Resources
Explore Activity Village