Lebanon
Learn a little about Lebanon and print out its interesting flag - in many different formats!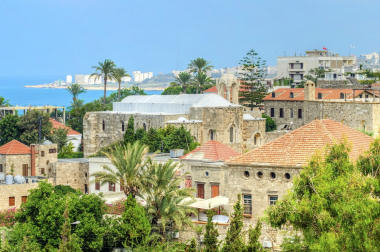 The historic city of Byblos, Lebanon
A Little Something About Lebanon..
Lebanon, or the Lebanese Republic, is an Eastern Mediterranean country bordered by Syria to the north and east and Israel to the south. Being at the crossroads of the Mediterranean has shaped the country's culture and ethnic diversity.
The name Lebanon comes from the Arab word for white, Lubnan. The country was so named because of its snow-topped mountains.
There is evidence of civilisation in Lebanon going back more than 7,000 years! The Phoenicians flourished in the area for over a thousand years. Later the Roman Empire absorbed the region.
From the 13th to early 20th Century, the area was part of the Ottoman Empire.
After World War I, what we know as modern Lebanon was given to France and remained under French control until 1943 when it won independence. A period of stability and wealth followed and Beirut, the capital, became a popular tourist city. Between 1975 and 1990 the country was plunged into Civil War.
Khalil Gibran is admired all over the world for his beautiful book, The Prophet, published in 1923 and translated into over 20 different languages.
Lebanon has six ski resorts.
The city of Byblos is the world's oldest, continually occupied city. The first alphabet was created there.
Here's a set of printables for the Lebanese flag, including colouring page and colouring...
Explore Activity Village