Liechtenstein
Liechtenstein is one of the world's smallest countries and also one of the world's richest! Learn a little bit about it and enjoy our Liechtenstein flag colouring page and flag printables.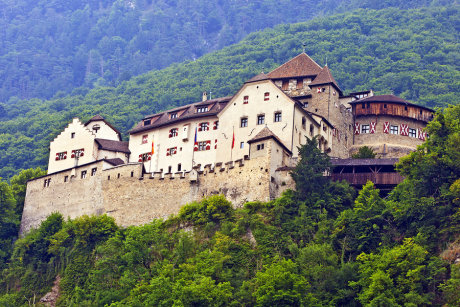 Vaduz castle, Liechtenstein
Fun Facts
The country really is tiny, at only 25km long and 12km wide. There are lots of places to hike and ski, but you could see most of the country if you ran a marathon!
You can't fly directly to Liechtenstein. You fly instead to Switzerland, and then drive or take the bus!
Liechtenstein is a German speaking country, bordered on the west and south by Switzerland and by Austria on the east and north. The population is under 40,000. The capital city is Vaduz.
Liechtenstein has a monarch, Prince Hans-Adam II of Liechtenstein.
The country is a tax haven. Its low corporation tax rates have attracted many international companies and made the country wealthy.
A landlocked country is one that has no ocean borders. A doubly-landlocked country is one that is surrounded entirely by other landlocked countries. There are only two double-landlocked countries in the world, and Liechtenstein is one of them! The other is Uzbekistan.
Do you like castles? There are some superb ones in Liechtenstein!
Our Liechtenstein Activities
What have the kids learned about Liechtenstein? Find out with the help of our fact-finding and...
Find below a collection of flag colouring page and printables (jigsaw, bookmarks, notebooking page...
Explore Activity Village