Whether for a farmyard project, or a home-made Nativity scene, this simple lolly stick stable takes a bit of patience to make but is well worth the effort.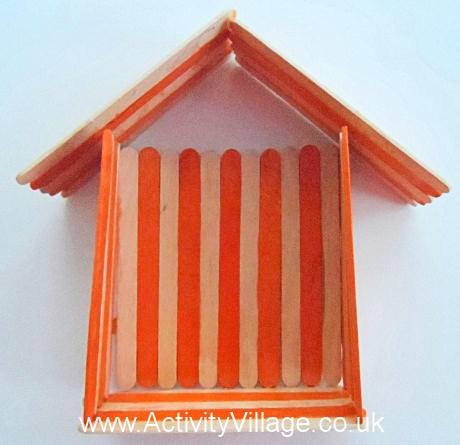 You will need:
38 lolly (popsicle) sticks
Glue
Instructions:
Carefully gluing along the thin edge, glue together 11 lollysticks. Reinforce them by gluing another two sticks across the back.
Glue 5 sets of 5 sticks together.
When everything is dry, glue one of the 5 panels at right angles on to each side of the large panels to form the walls.
Take two more 5 stick panels and glue them together along the rounded ends at right angles to form the roof. Wait patiently for them to dry!
Finally, glue the walls to the final 5 stick panel to form the floor and attach the roof.